Custom Wood Carving and Sculpting by Master Wood Carver Fred Zavadil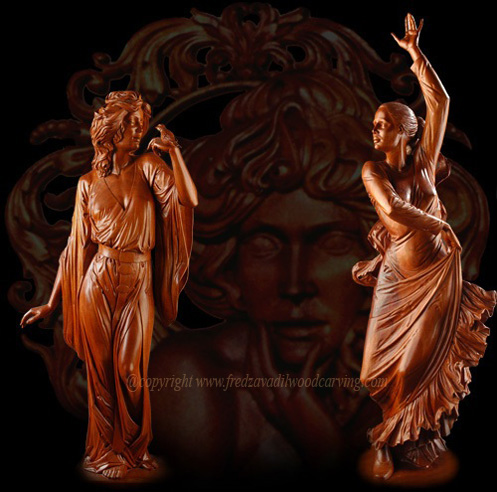 Fred's specialty is figurative wood carving and sculpting and beside original wood sculptures, he offers one of a kind, custom designed relief, ornamental, and architectural woodcarving. He is often asked to carve replicas of missing or damaged parts of antique furniture, carved railings,  and fireplace mantels. He also serves clients who desire  unique wood carving designs, carved decorative art, and original wooden sculptures for their homes. He  guarantees that he will not reproduce any of the designs, woodcarvings or statues. His portfolio includes carved wood statues, figurative and ornamental relief carvings, carved decorative panels, railings, banisters, and fireplace mantels. He also provides antique restorations and art/ sculpture restorations.  
For more information please check How to commission a wood carving.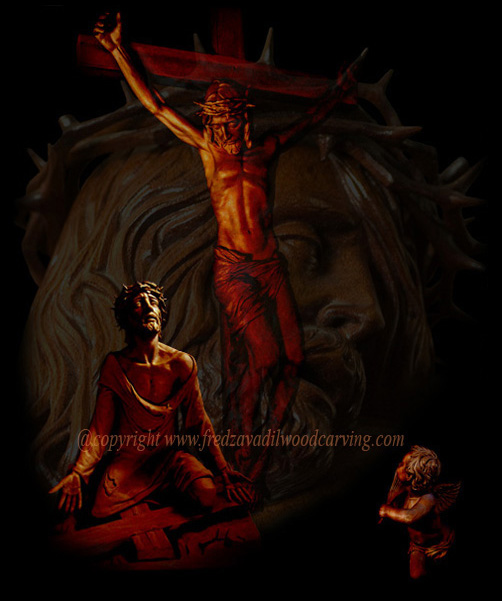 Majority of Fred's work is for religious institutions. He found his niche in designing and carving religious sculptures, mostly catholic statuary.  He can design and create original  liturgical art pieces and  religious statues to suit any place of worship. His work includes resin, bronze, and wood statues of saints, carved processional crosses,  and religious relief wood carvings. He also offers church sculpture restorations.
Fred works closely  with Celeste Liturgical Fabric Art Studio for which he paints and  designs religious tapestries & hangings.
We will be offering woodcarving classes  (Relief carving" or "Bring what you want to carve) and clay modeling / sculpting classes (basic sculpting classes concentrating on human anatomy and face)  again in the fall of 2016. Please email us for info and pricing. If you are a group of 4-5 people, we can set up a class / workshop based on your interest.
Please check Fred Zavadil Wood Carving and Sculpting Channel on YouTube to see Fred carving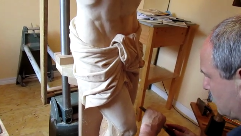 Patterns
We have recently added caricature wood burning (pyrography) patterns to our portfolio. At this moment we offer patterns of pirates and cowboys. These patterns can also be used as wood carving patterns for 3-D caricatures / sculptures or for relief carving.
fred.zavadil@gmail.com
1-519-966-0428
 Carved Religious  Sculptures  & Custom Wood Carving in Ontario
Wood carver in Canada
© Copyright Fred Zavadil, 2005-2016.  Text, art work, and images on this website are protected by copyright.  Any reproduction, retransmission, e-mailing or resale of images or website content is strictly prohibited without written consent of owner.