How to Finish and Stain Basswood Wood Carvings


If you would like to watch a video of me staining  a basswood carving, please scroll down.
.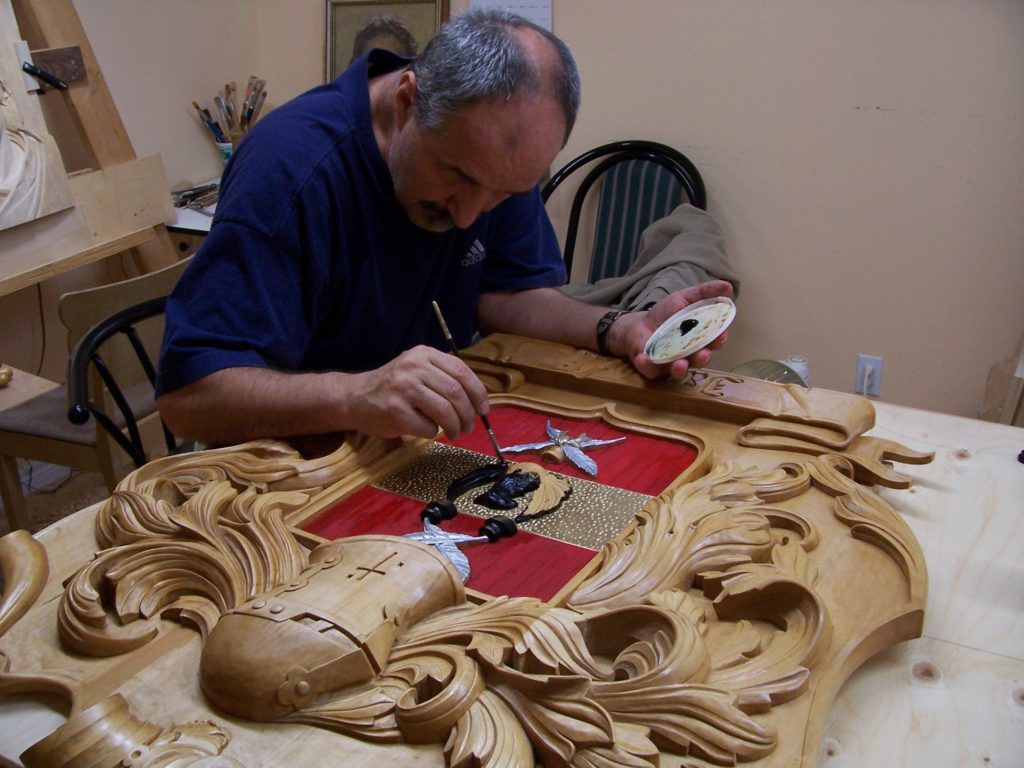 Majority of questions I get from other wood carvers are about finishing on my  carvings. I wish I had a simple, step by step recipe, but I do not. I will post answers to questions I get most often. Please don't be upset if I don't provide specific answer to your question. Finishing of my carvings depends on different factors which I have to consider individually for each project.
Please keep in mind that I work primarily with BASSWOOD and my answers relate to basswood.  All answers / information provided are related to my own experience and to what works for me. You might also want to read post "How to prepare carving for painting and staining" and watch a video where I show how I do it. But I have to stress that preparation plays a major role in achieving required results when I am finishing my carvings.
What kind of stains do you use?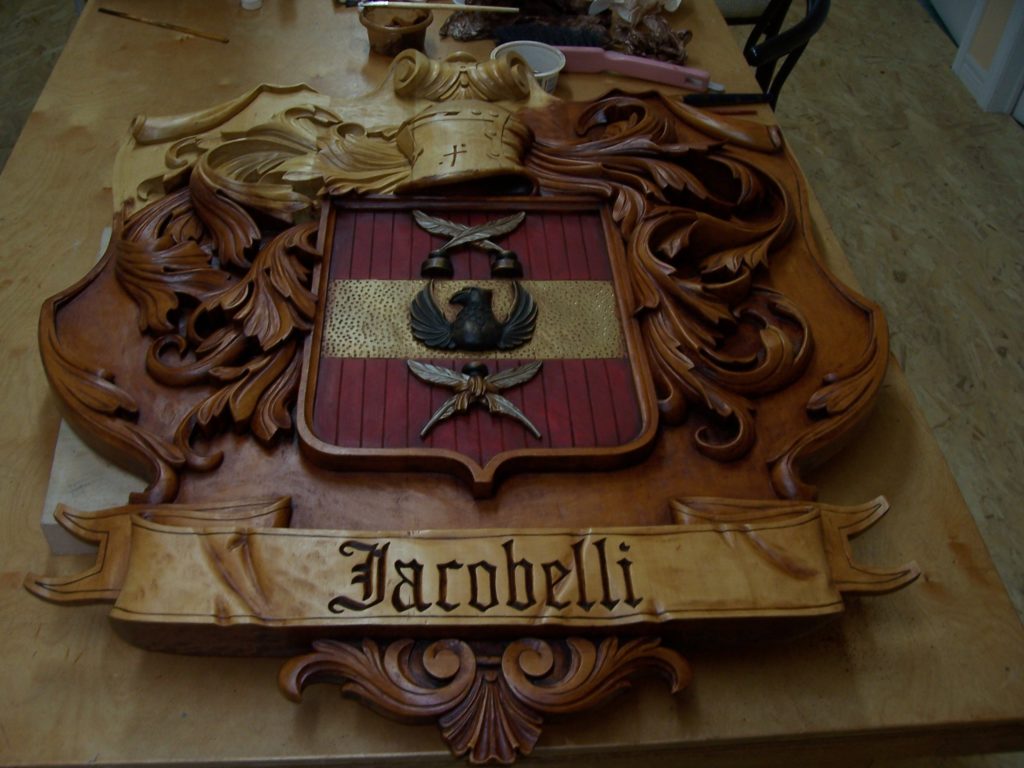 I mix my own 'stains' from oil paints and paint thinner. Regular stains which you can buy in stores will not get you the same results and might not work the same way. If you use store bought stains, you should follow instructions on how to use them.
How do you mix your stains?
I mix oil paints for artists with paint thinner. I do not have a ratio specifying how much of paint thinner I use – but I do not use too much. My stains are not liquid, they have more like a paste – yogurt consistency.
What colors do you use when you mix your stains?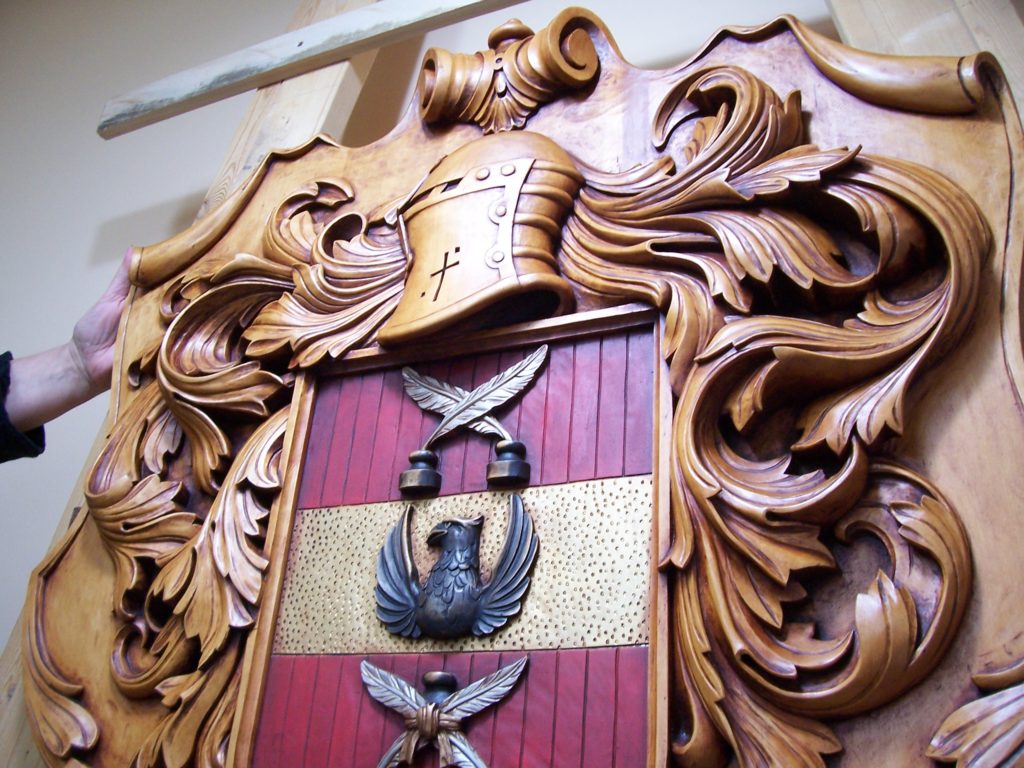 I use different shades of brown, burnt sienna, red, orange, white, yellow, green and black. Sometimes I only mix 2 colors together, sometime more. I do not have a formula or ratios specifying the amount of each color,  I mix stains depending on what I want to achieve. I mix new stain for each carving – I am not able to tell you what colors and in what ratio I mixed for a specific carving.
Do you use cloth or brush when you apply stain?
I use brush to apply stain. After I apply stain, I use cloth or paper towels and soft brush to remove the excess stain. I do not just leave the stain on the carving, I work with it – by wiping off excess I can create lighter and darker areas. It gives the carving feeling of depth.
What do you use after staining?
It depends, in most cases, I will not use anything, sometimes I use varnish for better protection – if needed (I do not like anything too shiny) – and I  experiment a lot to see what would be the best.
Do you paint your wood carvings?
I paint carvings when I am asked by a client and even then, I use very little paint so that the wood can be visible under paint. I do not really like using colors on my personal carvings, but, sometimes carvings can be improved by adding a little color a lot.
What paints do you use?
I use oil paints for artists – paints used for picture painting. You can buy them  in stores selling hobby or art supplies.
Why do you use oil paints and not acrylic paints?
For me,  oil paints do not have the feel of plastic when applied to wood, somehow they feel softer and are easier for me to work with (I used to paint pictures a lot in the past). Oil paints take much longer to dry than acrylic paints  – it gives me more time to work with them.
Finishing is not an easy task and my best advice is to experiment. Not on your carving – take a piece of wood, make few cuts in it in different directions and different depth and stain/paint it. I understand that you are all excited when the carving is done and you want to have it finished and show it to everyone but PLEASE, take time to experiment before you ruin it with bad paint or stain!!!!
Staining and finishing basswood carving – my way
.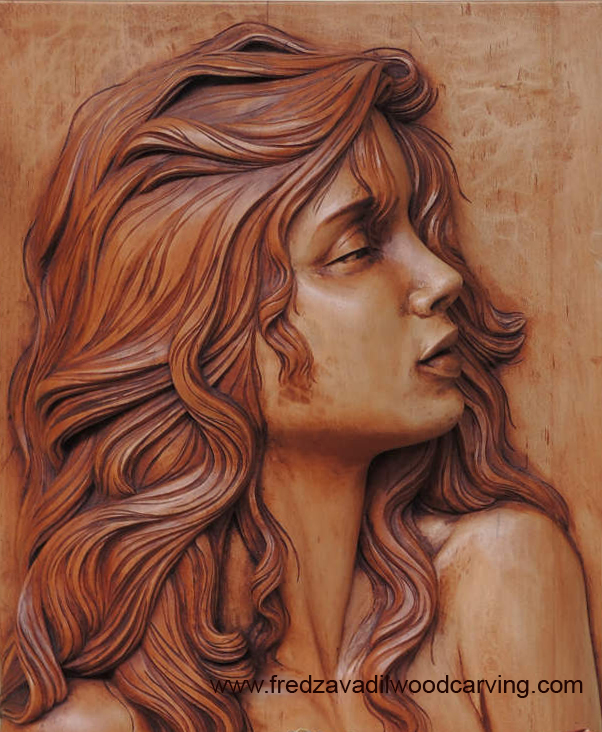 Basswood, bas relief carving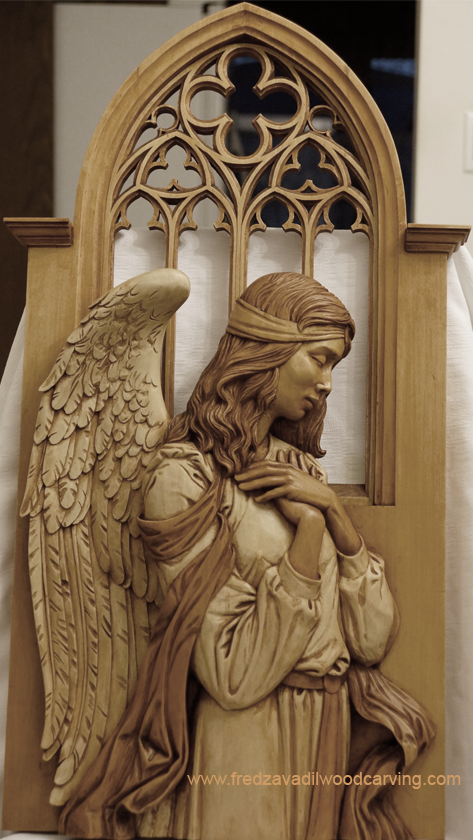 Ange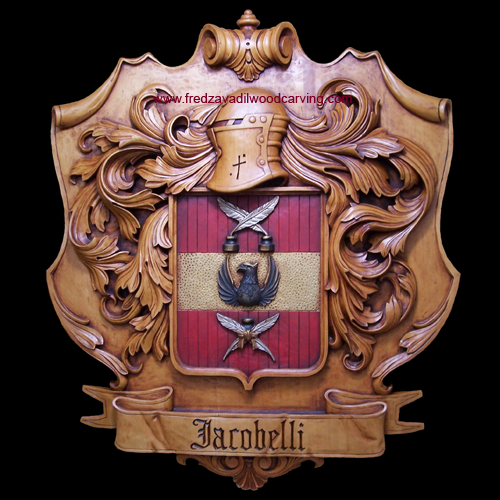 Carved coat of arms, basswood, relief woodcarving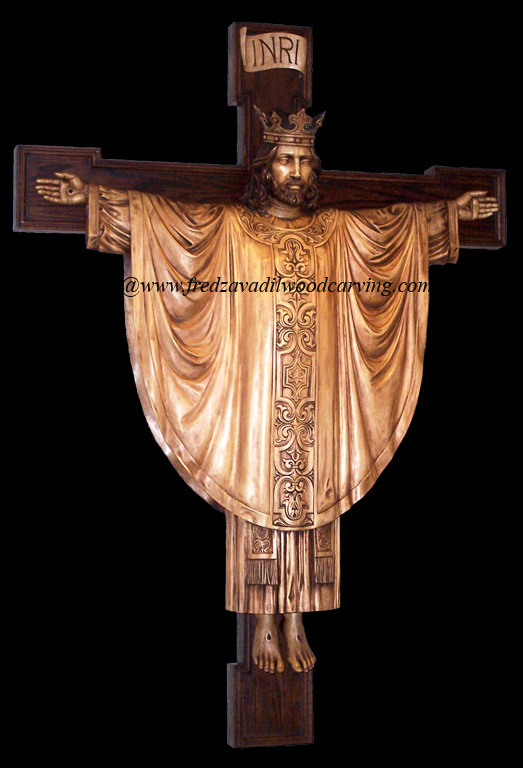 Sculpture of Christ the King, Religious woodcarving, basswood
© Copyright Fred Zavadil, 2005-2016.  Text, art work, and images on this website are protected by copyright.  Any reproduction, retransmission, e-mailing or resale of images or website content is STRICTLY PROHIBITED without owner's prior written consent.