Religious Art and Sculpture Restorations, Antique Restorations
*
Our studio provides religious art and religious sculptures restorations. We specialize in repairing and repainting of old religious statues from wood, resin and plaster and in replacing of broken/missing parts of church furniture and religious art objects. We can also make replicas of your lost or broken liturgical art pieces.

Wood and plaster sculptures coming for restorations are usually covered with several layers of old paint, different parts are broken or missing. They first need to be stripped stripped of old paint, after paint removal they are cleaned, missing parts are replaced, broken fingers, chipped edges, holes, scratches, and other damages are fixed. Then, the statues are ready to be painted again according to our client's requirements.
Corpus & Cross, Plaster sculpture restoration – before and after restoration and re-painting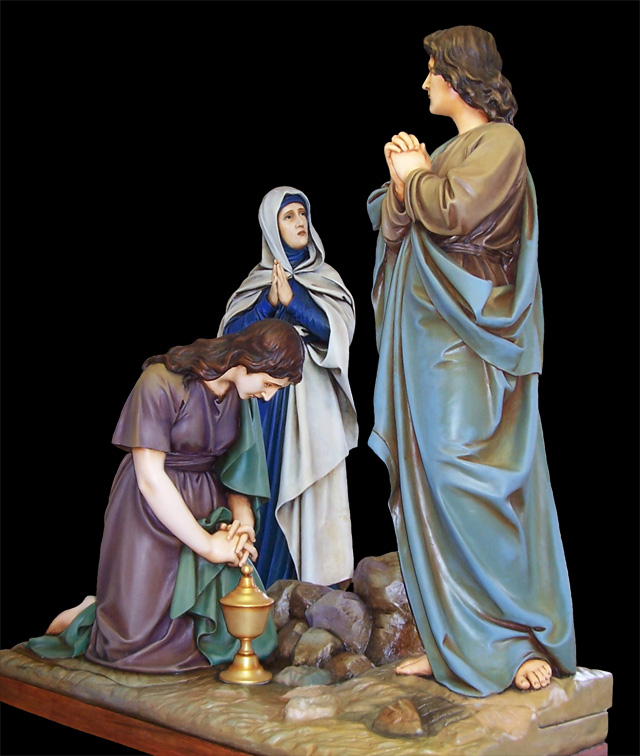 Religious Art and Sculpture Restorations, statues of saints after restoration
*
&
*
*
*
Antique Restorations & Art Restorations
Once in a while something really interesting and challenging makes it's way to my studio. This basket with a rooster and a chicken came from a client who inherited it from her parents. It has been broken ever since she could remember.
If you are wondering about the difference in color before and after – there is no difference, only, the pictures were taken in very different light (in full daylight and in the evening with lights). The actual color is somewhere in between.
Liturgical / Church / Religious Art Restorations
© Copyright Fred Zavadil, 2005-2016. Text, art work, and images on this website are protected by copyright. Any reproduction, retransmission, e-mailing or resale of images or website content is STRICTLY PROHIBITED without owner's prior written consent.