Wood burning (Pyrography) Caricature Patterns
It seems that Fred got really caught in the "world of caricatures" and his latest experiment in this new world is pyrography – also known as wood burning. I should probably tell you that before sculpting and carving Fred used to paint and draw realistic pictures of everything he came across and that he liked drawing and painting people most of all. He is really good in it – too bad he likes carving more. For me, (Hana, his wife), his pencil drawings are the best – for this reason I was trying to talk him into wood burning several times over the past few years. I finally succeeded in January (2010) when he was not feeling well and had to stay at home away from his wood carving project. The results are several woodburnings with caricature motives. Everybody seems to like them (me probably the most) and because friends and fellow carvers keep asking for patterns, Fred created patterns of the ones he likes the most.
At this moment we have 15 wood burning patterns available – 11 with cowboy and cowgirl caricatures, 2 pirates, 1 fairy, and 1 angel. They are available on paper (patterns + pictures of actual wood burnings for reference) and we also managed to put all 15 patterns and pictures on DVD.
Wood burning patterns of COWBOYS , PIRATES, HOW TO ORDER, AND COPYRIGHT STATEMENT.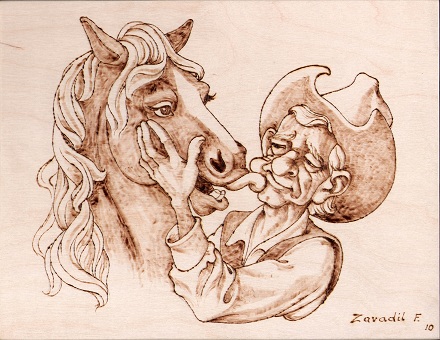 Cowboy and his horse, caricature wood burning pattern
Fred Zavadil, Woodcarving in Ontario
© Copyright Fred Zavadil, 2005-2017. Text, art work, and images on this website are protected by copyright. Any reproduction, retransmission, e-mailing or resale of images or website content is STRICTLY PROHIBITED without owner's prior written consent.