Fred has been carving customized religious sculptures for over 20 years now and his passion for liturgical art can be seen in each of his works. Thanks to his sculpting abilities, his religious statues' faces express just about every feeling – pain, humility, sadness, or love – and when you look at his wood carvings of Jesus, you will feel His pain. Fred specializes in catholic statuary but also has an extensive experience in designing and carving ecclesiastical art suitable for any environment.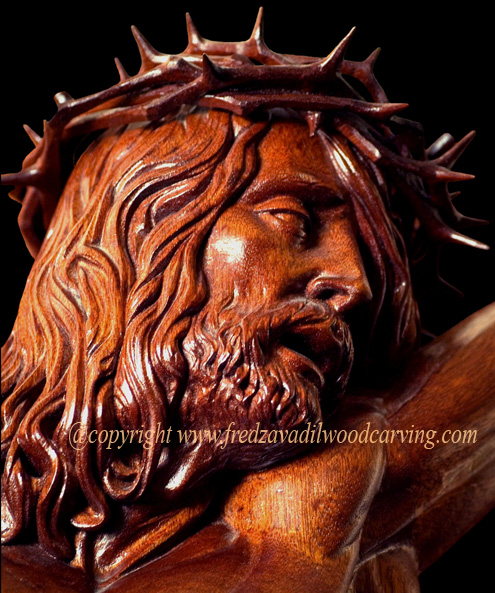 Fred' religious sculptures are made from different media including wood, resin, and bronze but wood is really his number one choice for church sculptures. His portfolio includes carved and customized catholic statues of many saints including sculptures of Jesus, Madonna, Madonna & Child, Mary, Holly Family, St. Josef, St. Michael, carved sculptures of angels, numerous religious relief carvings, and other liturgical art pieces. You can find Fred's customized religious statues in churches and other religious institutions all around North America.
If you would like to get custom designed religious statues of saints, original religious woodcarvings, or any other church sculptures for your sacred place, please feel free to contact us. You will be dealing directly with Hana, Fred's wife, and with Fred avoiding the middle man or re-seller. Your sculpture will be carved in North America by Fred. It will also be an original – not a copy machine reproduction.
Please note that we don't have inventory of religious sculptures for sale and don't make or sell reproductions of Fred's carvings. Each statue is custom designed original and is carved according to client's specifics. Also, please keep in mind that carving is time consuming process, the more intricate carving, the longer time it takes to complete. Large as well as small and complicated projects can take several months to complete. Please check information about commissioning a wood carving.
Samples of religious sculptures and catholic statuary by liturgical wood carver and sculptor Fred Zavadil
Over the past 20 years Fred carved numerous religious sculptures and custom designed statues of saints. Majority of them are catholic statues including sculptures of St. Joseph, Holy Family, Jesus, Virgin Mary, Padre Pio, St. Fidelis of Sigmaringen, station of the cross relief carvings, several portraits of popes, and other religious wood carvings.
Basswood statue of Risen Christ (also known as Christus Rex or Christ the King) carved for a cathedral in Pittsburgh. It is about 5 feet tall and it is carved from basswood.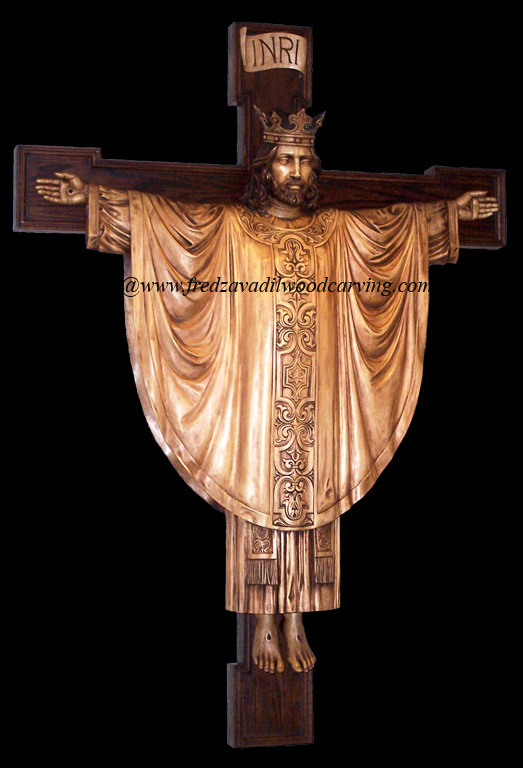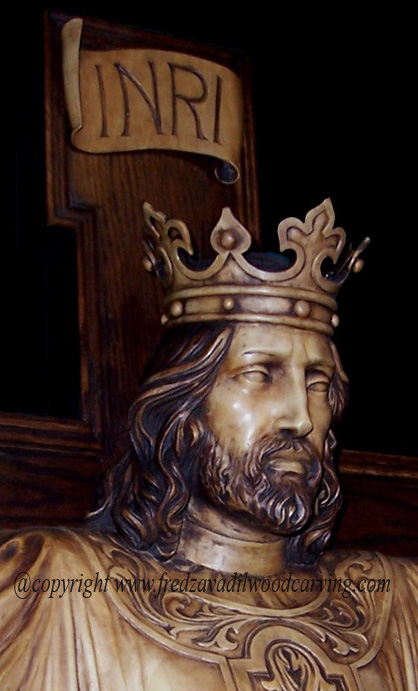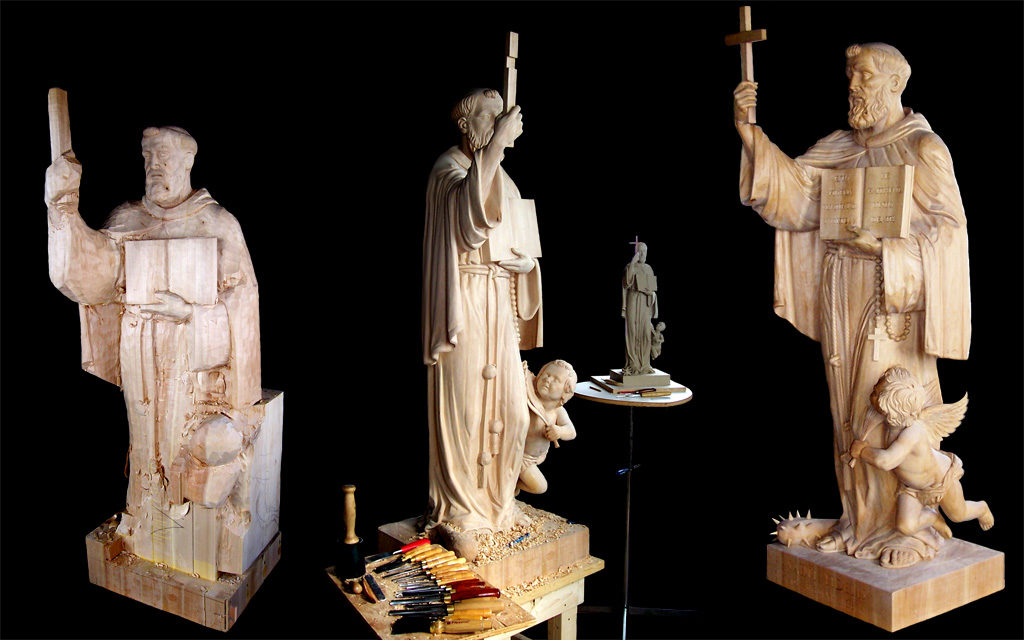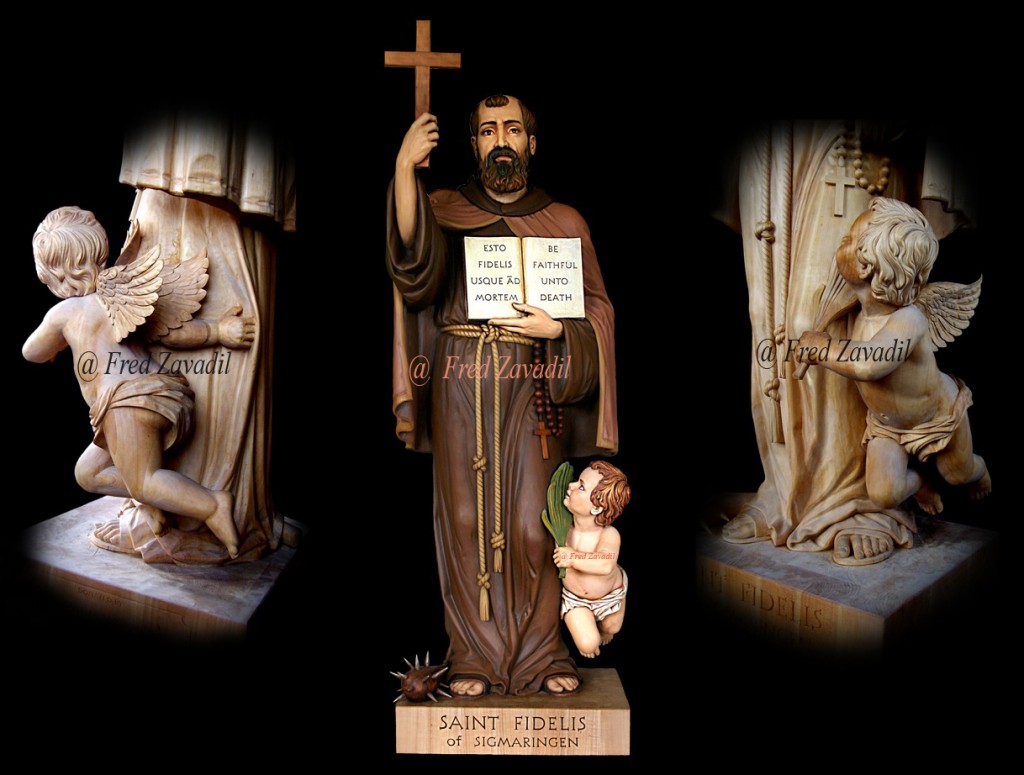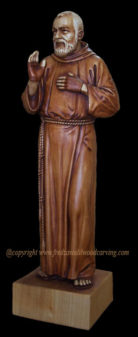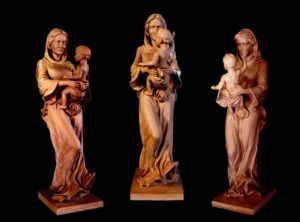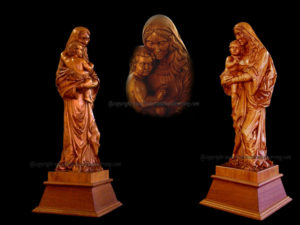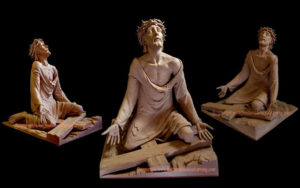 Sculptures of Jesus (crucifix), St. Joseph, Virgin Mary, and St. John Neumann with children; carved for St. John Neumann catholic church. The statues are carved from basswood and they were painted and stained.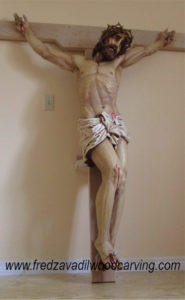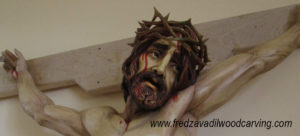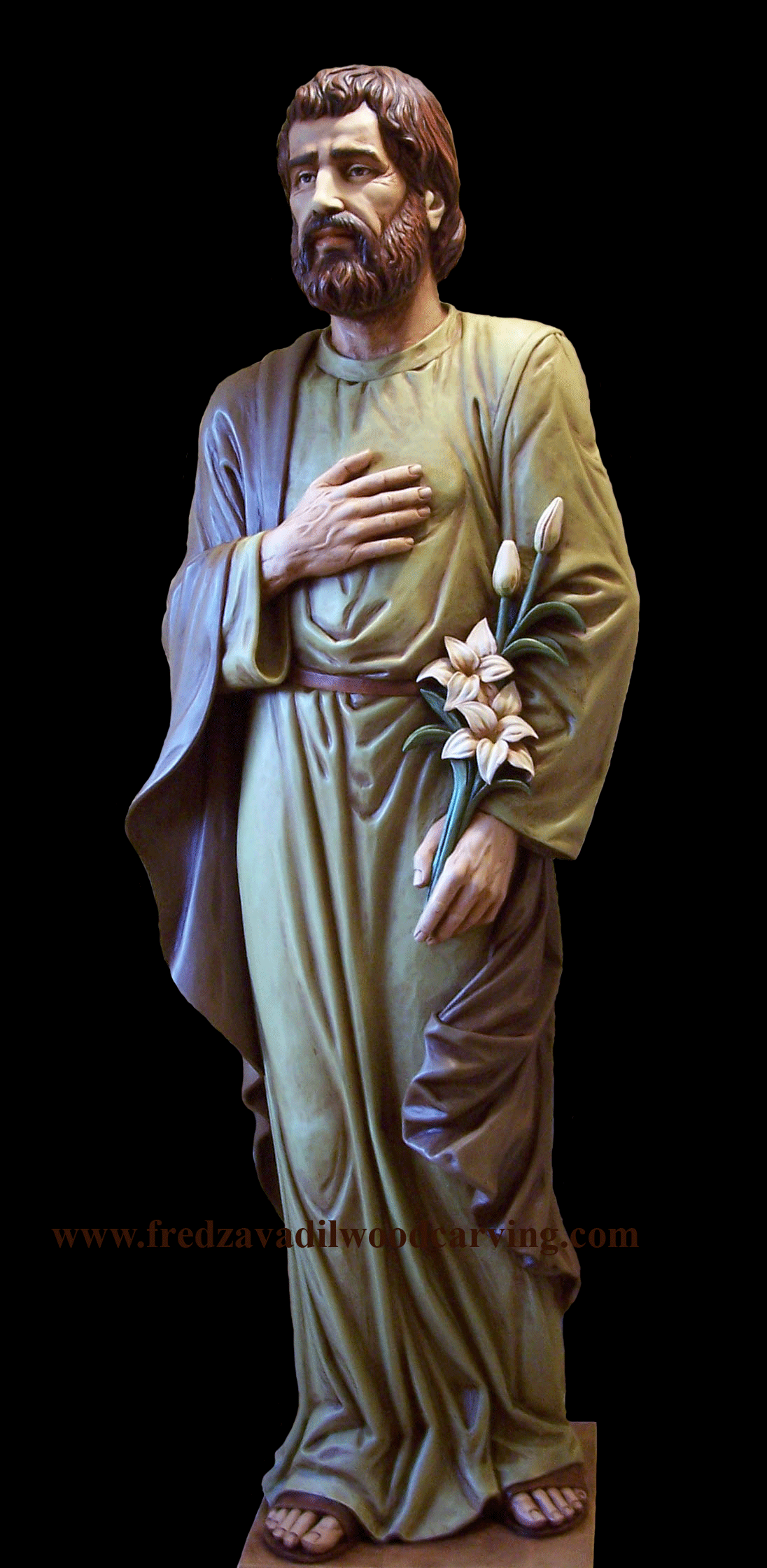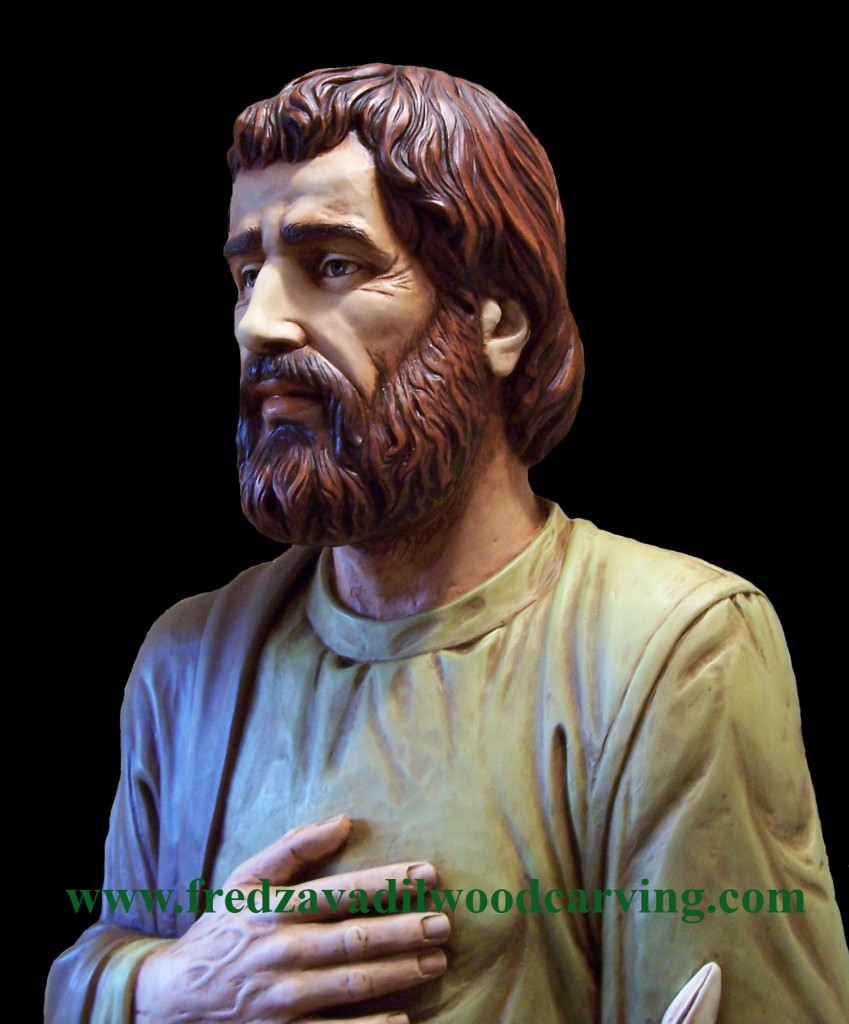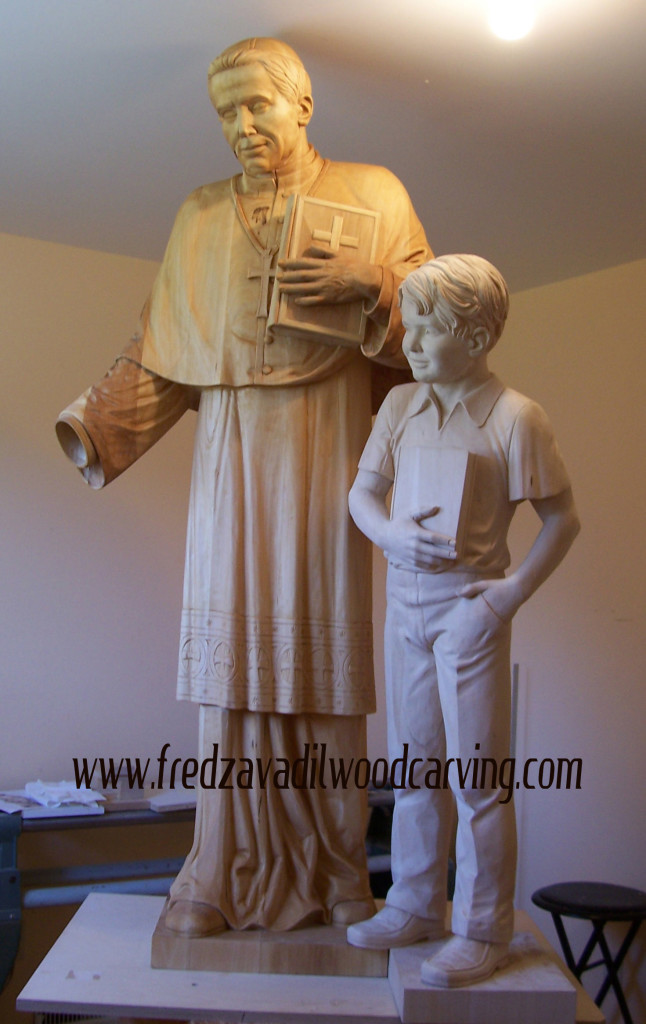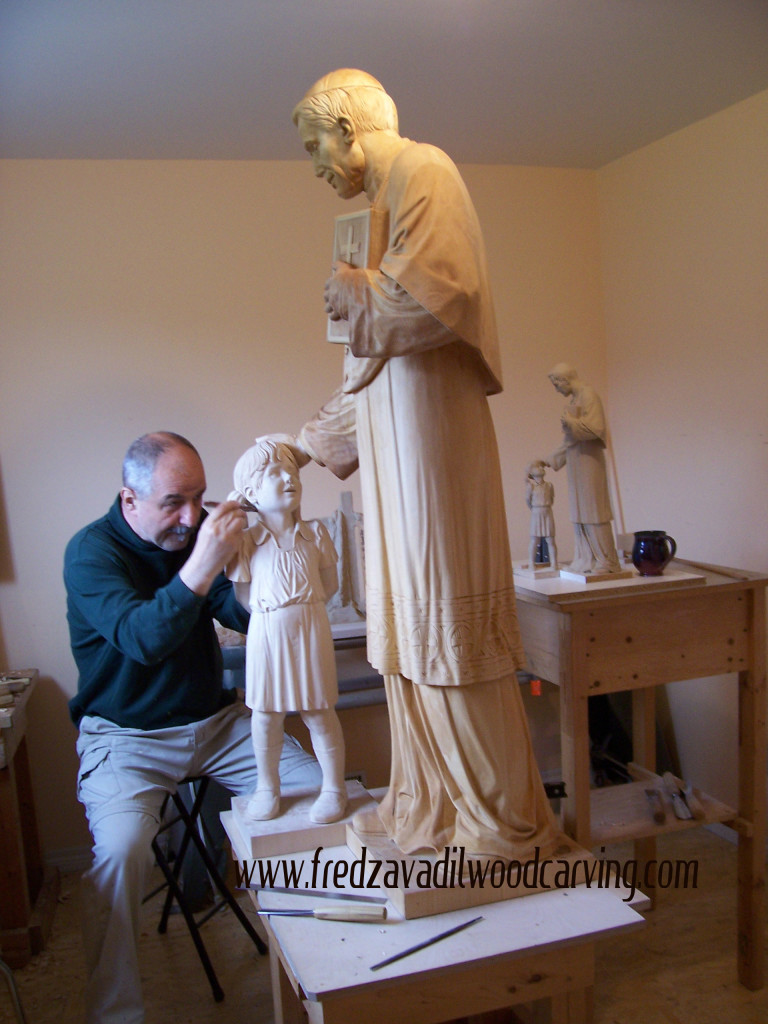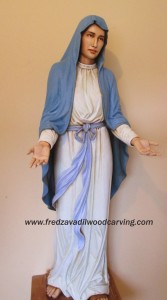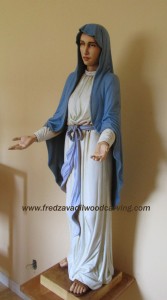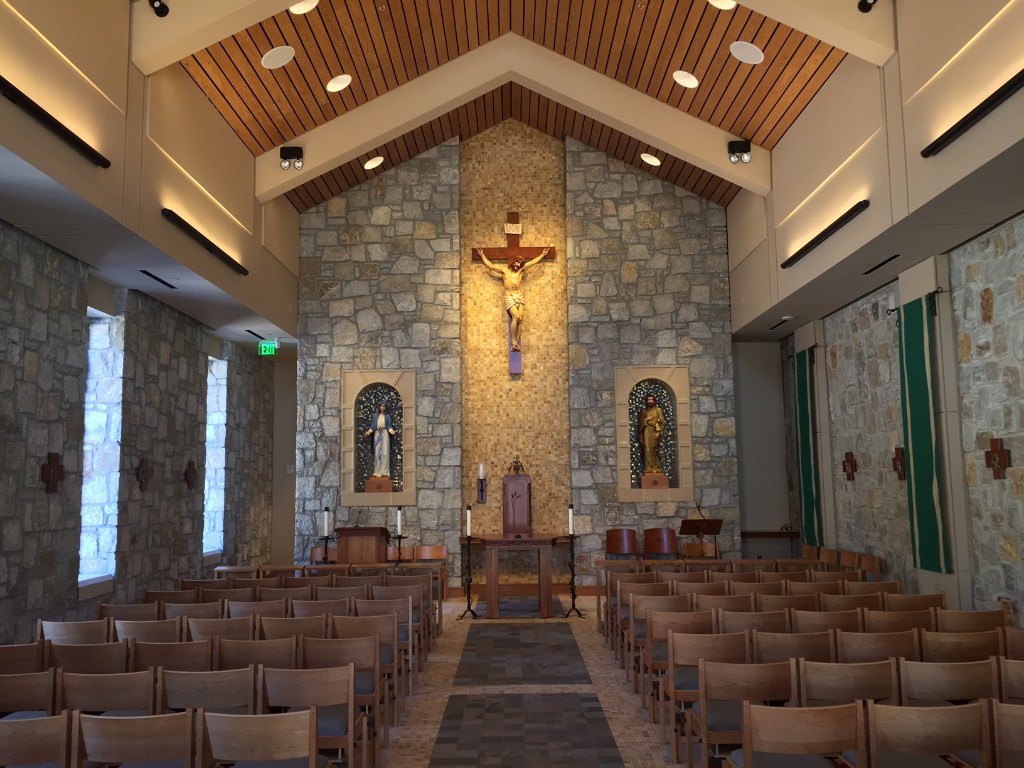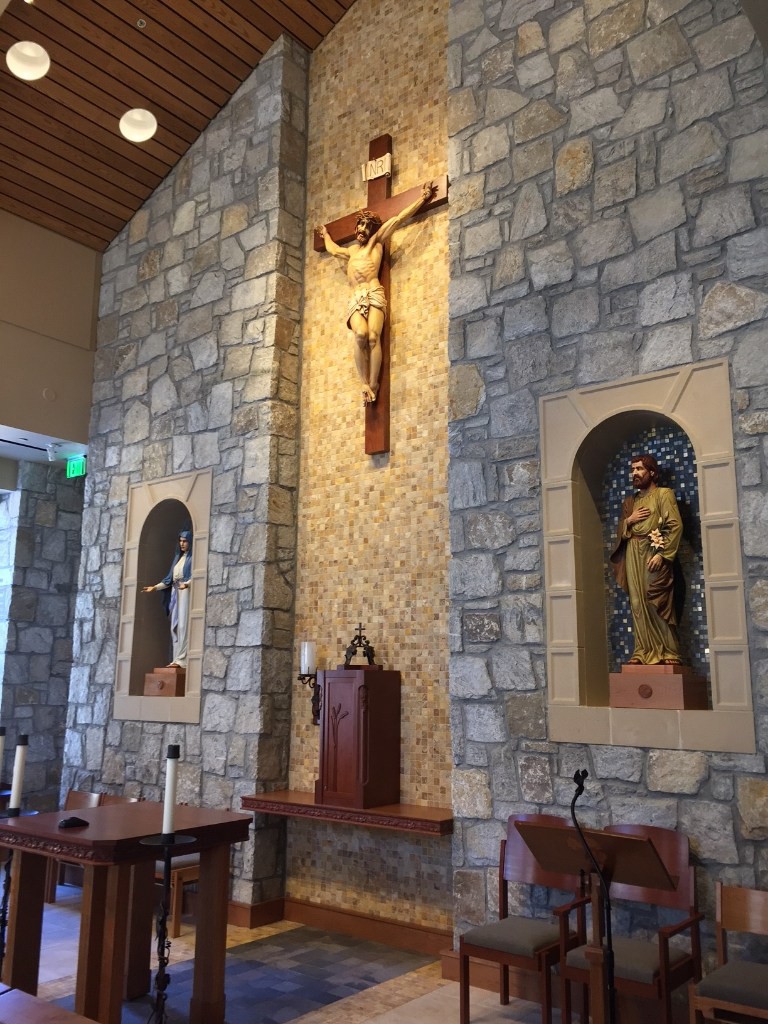 Hand carved and painted wood sculptures of Mary, Jesus, and Joseph in the new chapel
The sculpture Fred is asked to carve most often is a sculpture of Jesus – in different sizes and different positions, sometimes a full crucifix, sometimes just the corpus to be suspended in the air.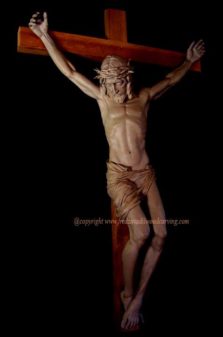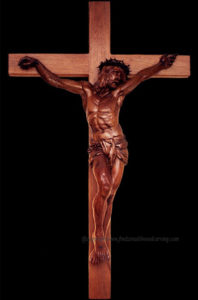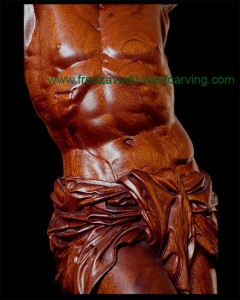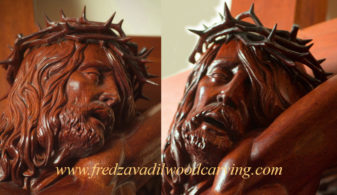 Samples of custom designed and carved sculptures of Jesus
Latest work
April, 2017 – just finished custom designed statue of Good Shepherd for a new church in Tecumseh, ON. Basswood, 5′ (150 cm). The new church is uniting 2 congregations – the unification is symbolized by Good Shepherd holding 2 lambs. The sculpture will be stained.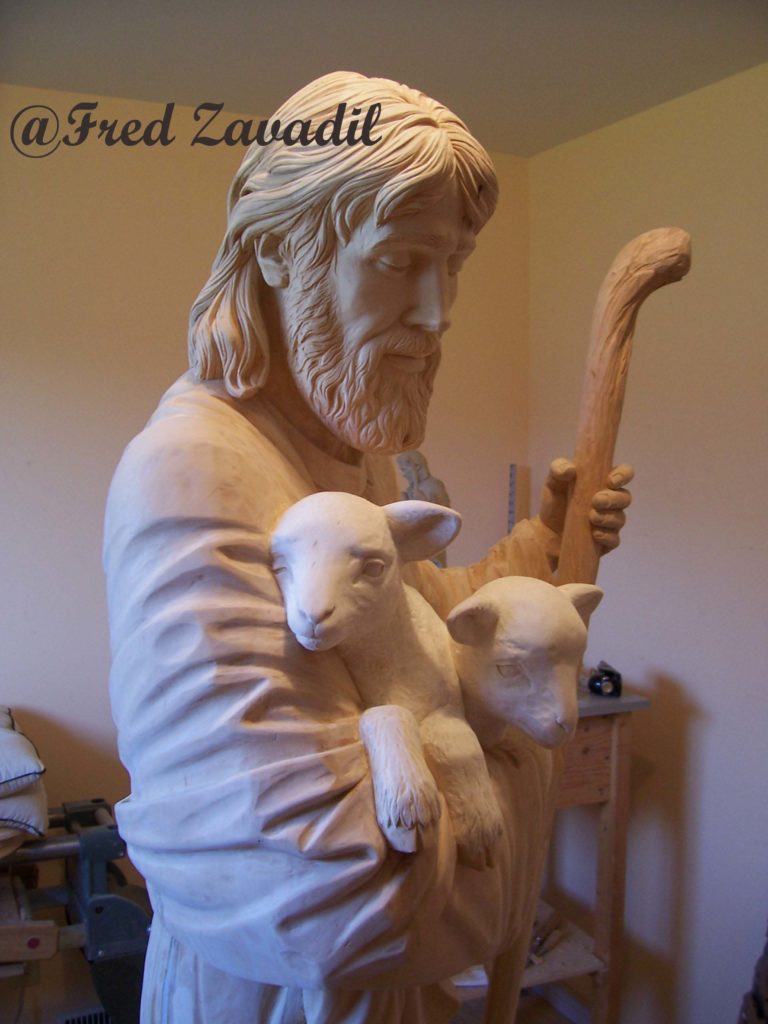 Custom crucifix carved for the same church – it will be suspended in the air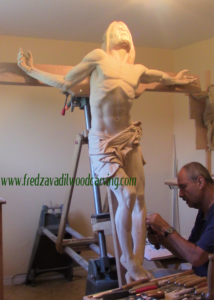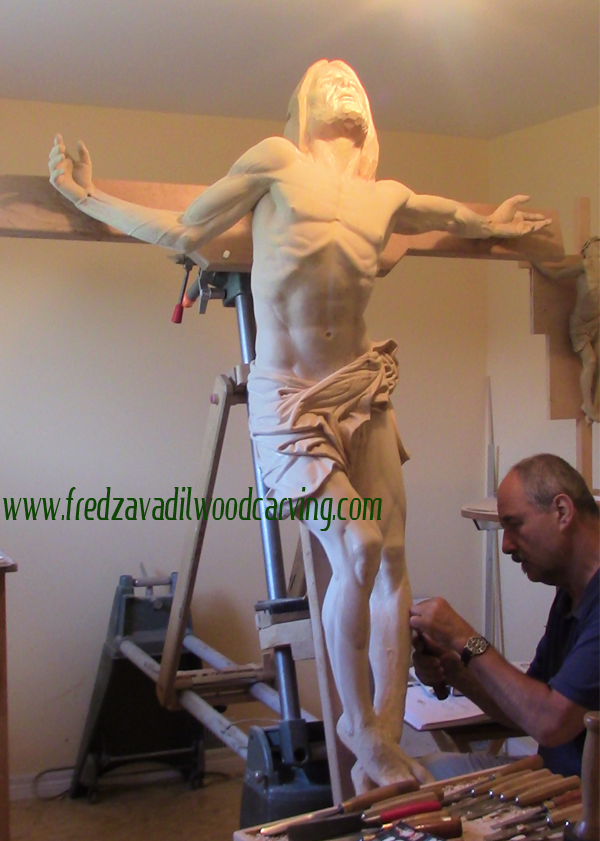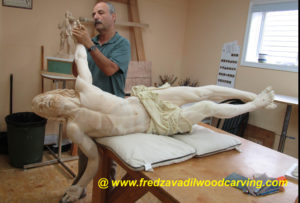 Samples of other religious art and wood carvings
St. Pius X, 12′ bronze sculpture (medallion) on an outside wall of a church

Samples of custom religious relief wood carvings (basswood, Honduras mahogany)
Custom carved crosier, customized ecclesiastical art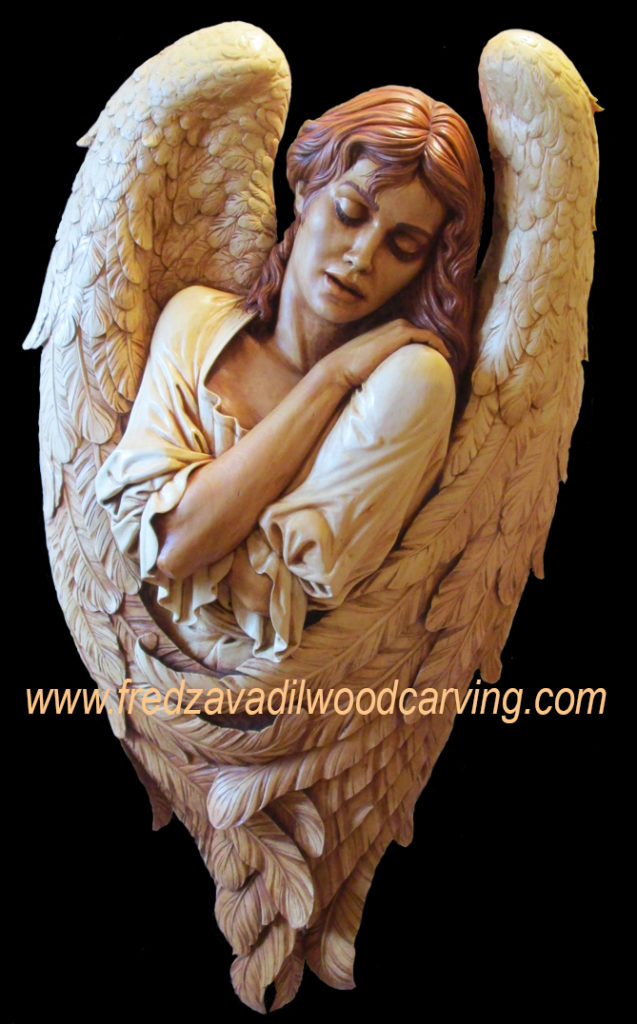 September 2017, one of Fred's latest religious carvings – hand carved wood sculpture of an angel, stained basswood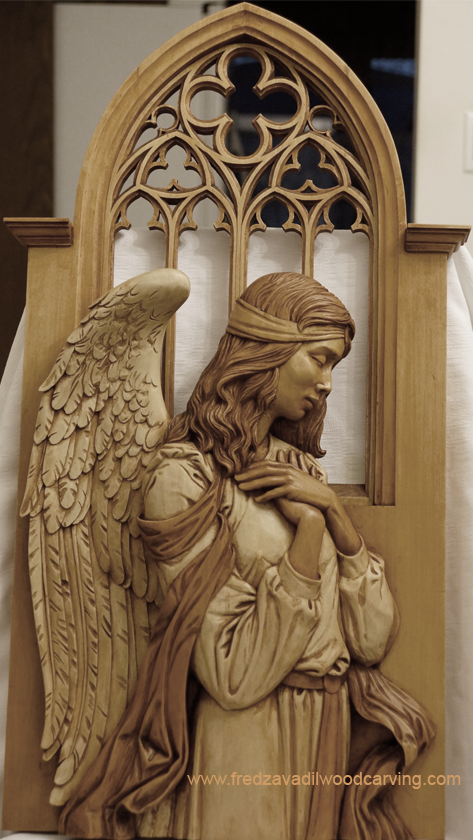 Carved relief on an angel, stained basswood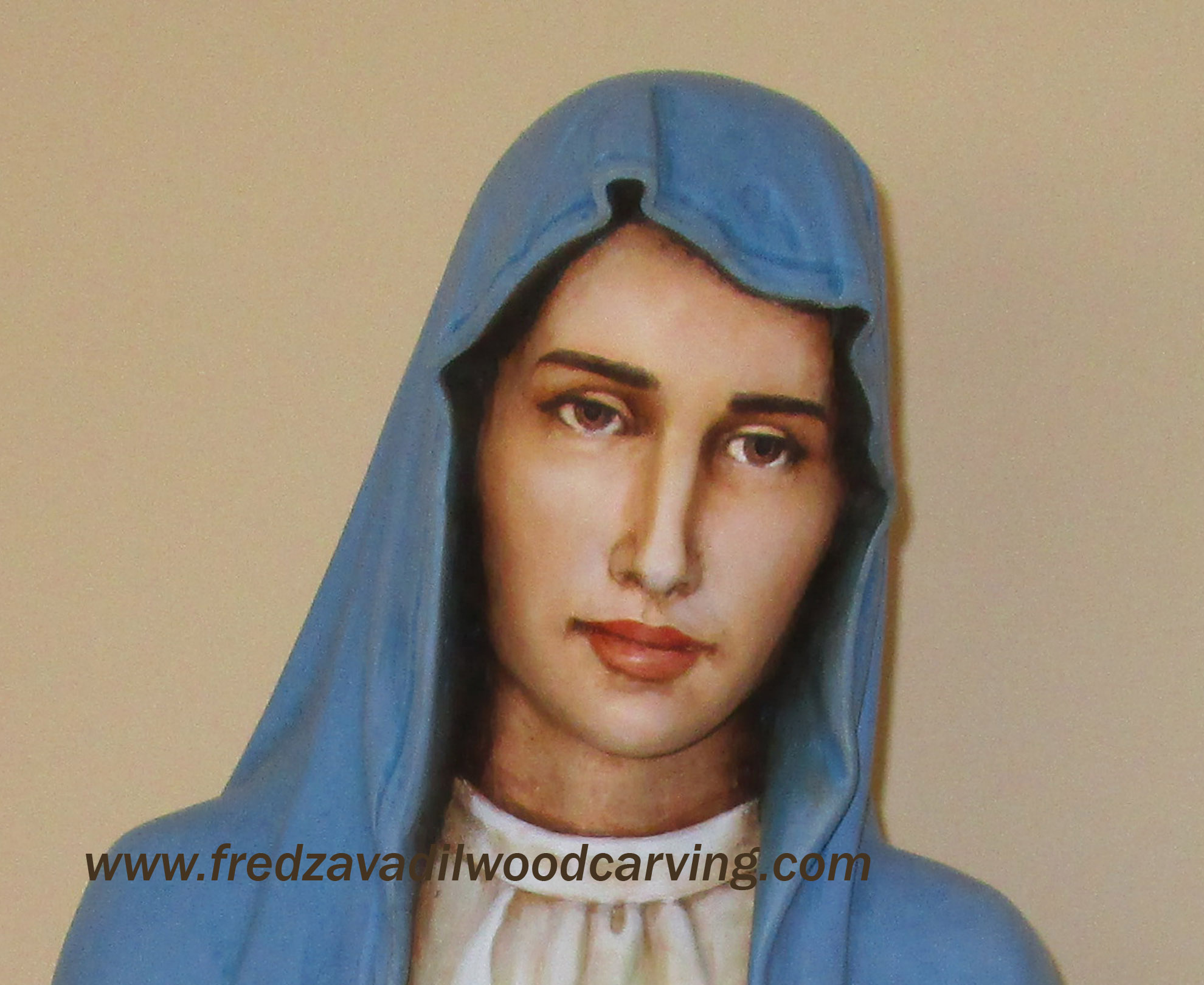 Carved and painted wood sculpture of Mary, basswood
Please check Fred Zavadil Wood Carving and Sculpting Channel on YouTube to see Fred carving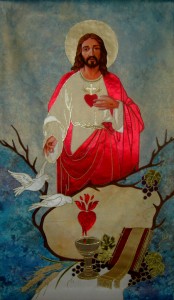 Please visit our page showing tapestries created in cooperation with Celeste Art Studio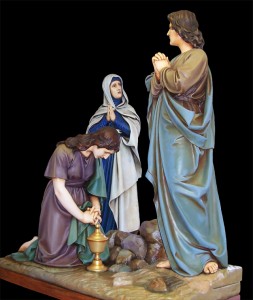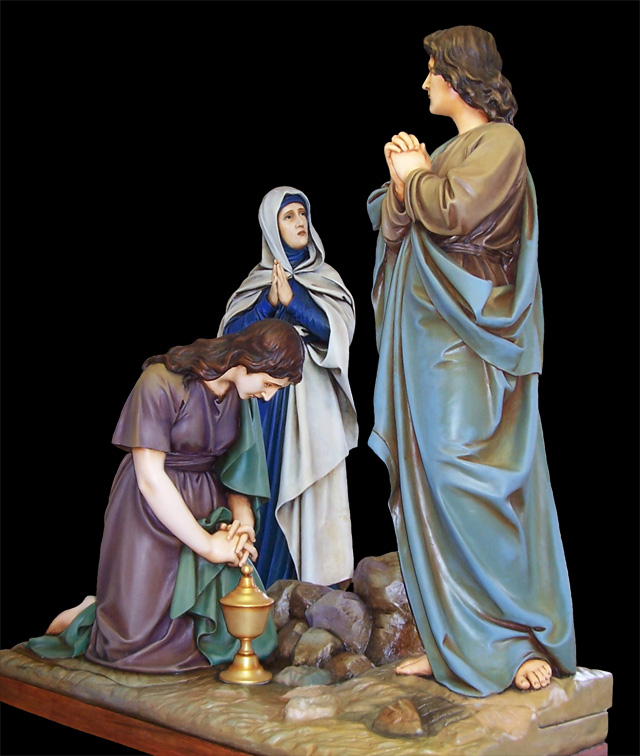 Take a look at some of our sculpture restorations
Contact:
fred.zavadil@gmail.com
1-519-966-0428
Customized catholic statues, religious sculptures, religious wood carvings and church art by master carver Fred Zavadil, Windsor, Ontario, Canada, Detroit, Michigan and area.

© Copyright Fred Zavadil, 2005-2017. Text, art work, and images on this website are protected by copyright. Any reproduction, retransmission, e-mailing or resale of images or website content is STRICTLY PROHIBITED without owner's prior written consent.