Carved wood sculptures and figurative and portrait woodcarving / sculpting are Fred's specialties. Sculptures on this site are samples of his commissions and personal work. Beside wood, Fred also works with bronze, resin, terracotta, and other media and can carve or sculpt almost any given subject – small or larger than life size.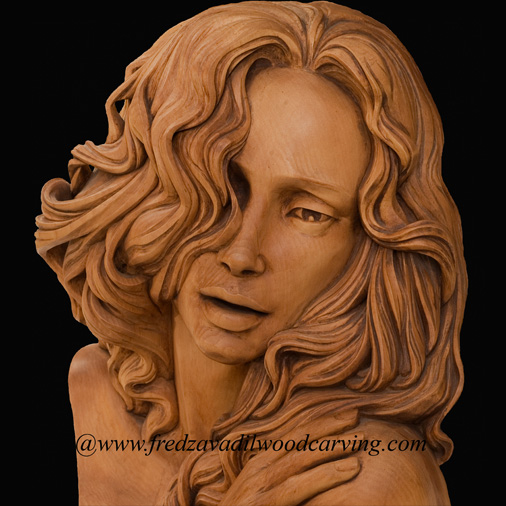 Fred is recognized as one of the best wood carvers in North America and his custom bronze and wood sculptures are known to wood carvers all around the globe. In the past nearly 20 years Fred won best of show or best in masters in almost every woodcarving competition he entered, including first, second and third best of show (2008) in the biggest wood carving competition – The Woodcarving Congress in Davenport, IO . It was the first time in 43 years of the Congress' history that one artist captured all three top awards. Fred's highly detailed realistic wood sculptures and portrait busts can be found in private and corporate collections and in religious institutions in North America and Europe.
Fred carves majority of his sculptures from basswood and really likes it. Basswood is easy to carve because it doesn't have strong grain and holds details very well. The natural color is a bit boring therefore Fred invented his own method of staining and finishing. He can give his wood carvings depth and color without painting them. When he paints some some of his carvings, he makes sure that the wood is visible under paint.
If you would like to know more about Fred's methods, check his tips and watch a video about basswood preparation for staining
If you like finishing on Fred's carving, please read some info and watch video about basswood basswood staining and finishing
Carved wood sculptures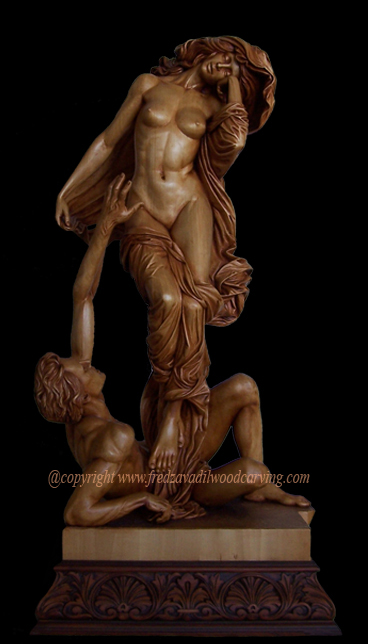 Dream, carved basswood sculpture, wood carving by Fred Zavadil

Wood carving "Dream" is one of the latest sculptures Fred carved. It was entered in 4 competitions:
1. International Woodcarvers Congress, Maquoketa, IA, 2012 – Best of Show
2. Artistry in Wood, Dayton, OH, November 2011 – Best of Show
3. Canadian Woodcarving Championship, Hamilton, ON, January 2011 – Best of Show.
4. Ontario Wood Carvers Association Woodcarving Show, Pickering, ON, October 2010) – Best of Show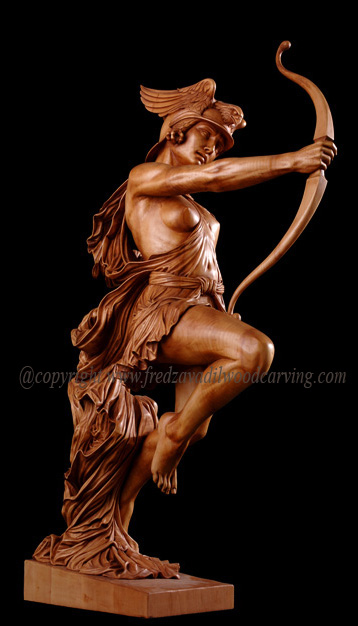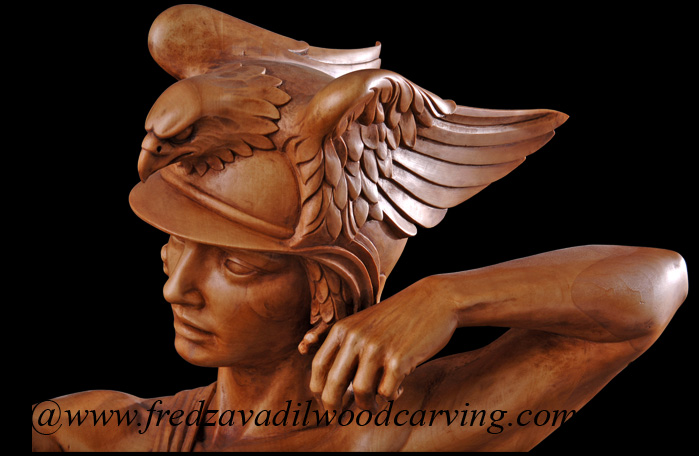 Archer, basswood carving, Fred Zavadil Woodcarving
Archer is probably Fred's most successful carving – it has won several Best of Show and Best in Masters in different woodcarving competitions; picture of it was published on the cover of Woodcarving Magazine (UK) and in numerous carving and hobby magazines. Beside being recognized as a really good carving, Archer also placed second in Sculpture Category in one of the biggest realistic art competitions, The International Art Renewal Salon in 2007 – proving that woodcarving is not just a "craft".
Carved wood sculptures by master carver Fred Zavadil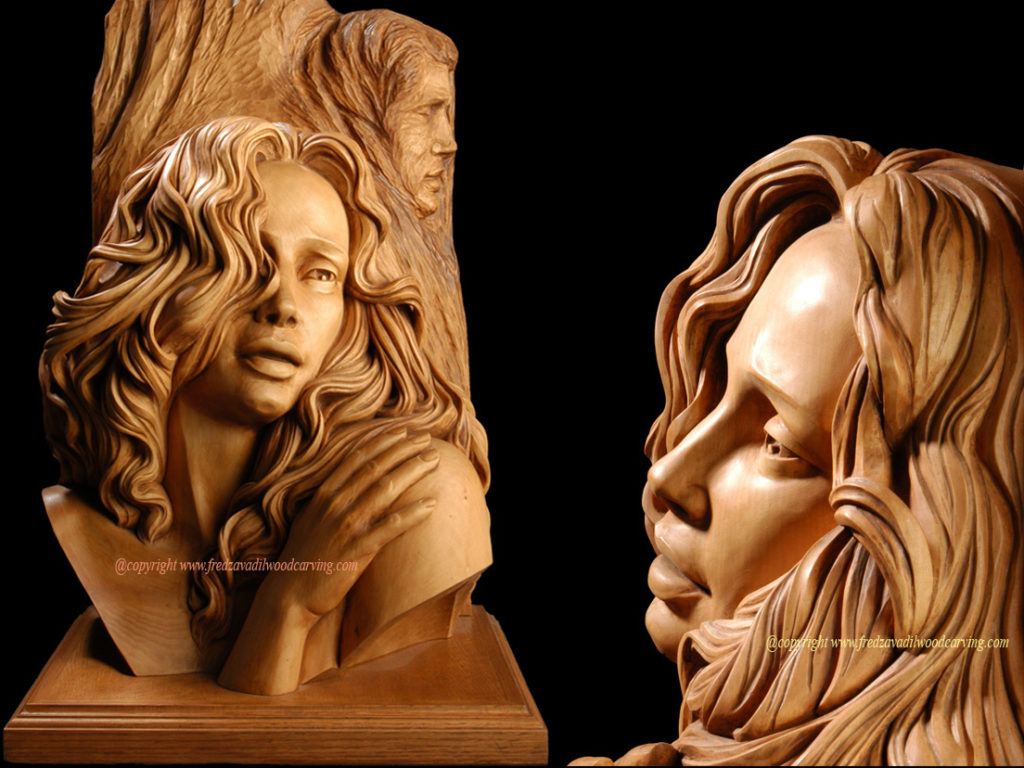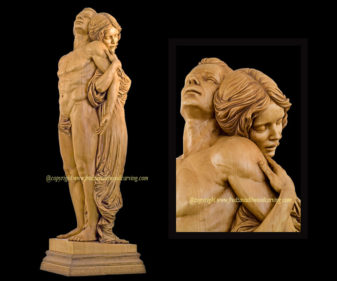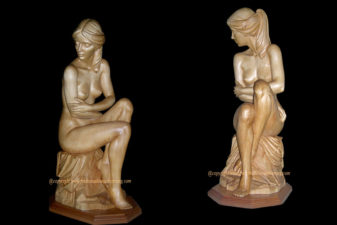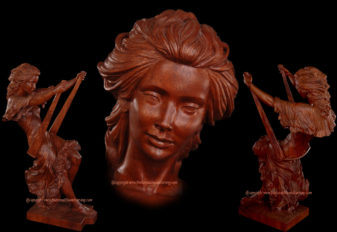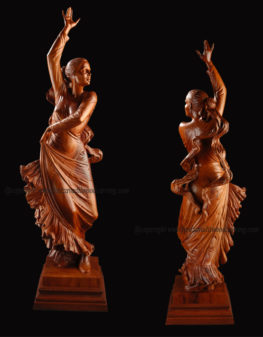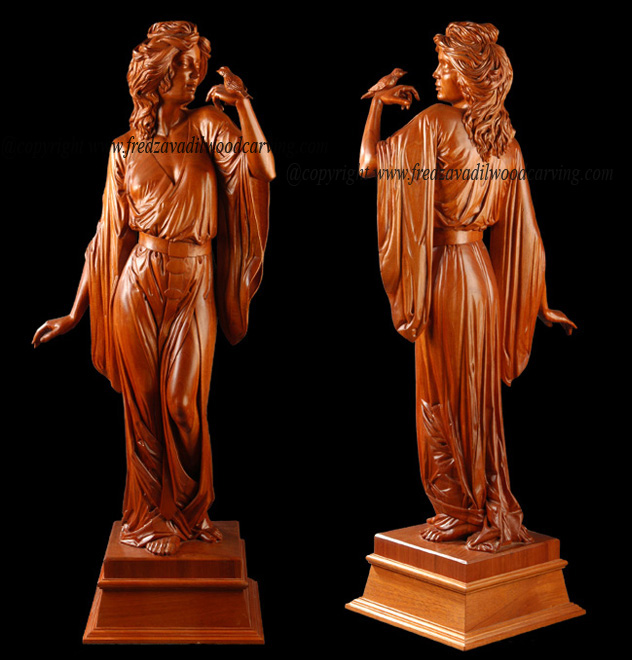 Girl with a bird, Honduras mahogany, wood carvings by Fred Zavadil
This is natural color of Honduras mahogany, no stain applied.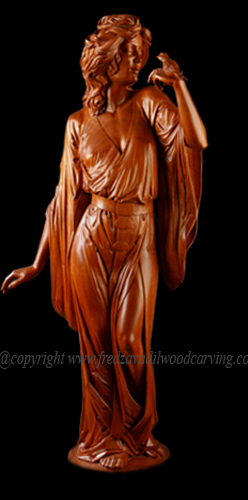 Honduras mahogany vs. African mahogany

Girl with a Bird, Honduras Mahogany Statue & Swing, African Mahogany Statue
None of these two carvings were stained, these are the natural colors of mahogany. The African mahogany (right) is darker, not as nice as the Honduras mahogany (left). Honduras (Honduran) Mahogany used to be my favorite but it is commercially exhausted and therefore protected to prevent extinction. African Mahogany seems to be a popular alternative with woodworkers – not that much with woodcarvers. I tried it couple of times but did not like it very much for carving – the grain was twisted and the wood kept cracking, also, the color is different and lacks the range of warm tones of Honduras Mahogany. But, maybe I just did not have the best of luck with the wood.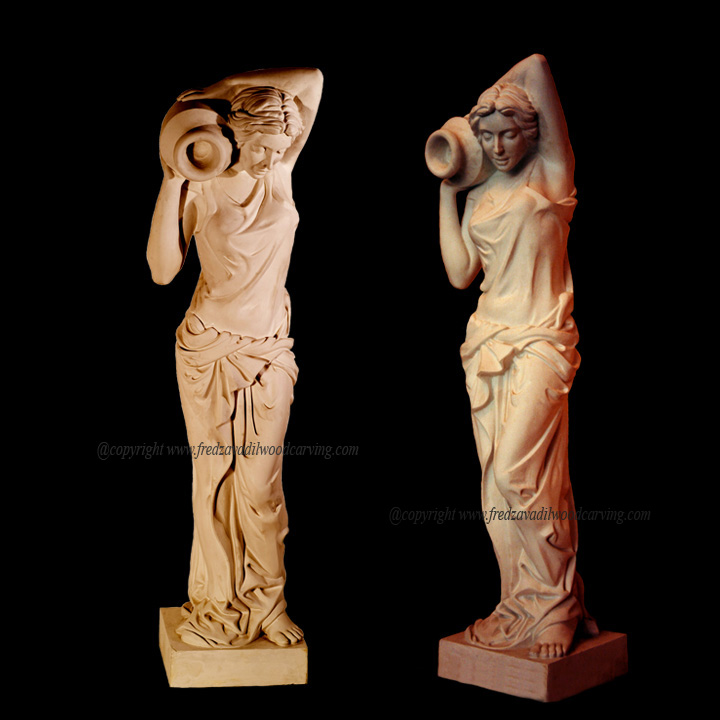 Water Fountain, Plaster Sculpture, model for casting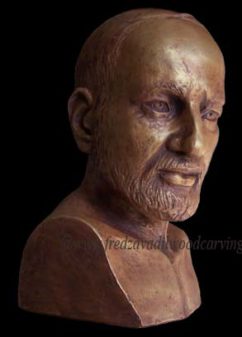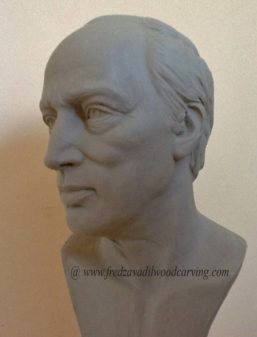 Pierre Trudeau, portrait sculpture, clay
Wood carvings donated to Ontario Wood Carvers Association and to Windsor Wood Carving Museum
Once in a while, as time permits, Fred donates a small wood carving or wood burning to carving organizations and institutions to help raise money for promoting the art of woodcarving. The latest was given to the Windsor Wood Carving Museum. It will be auctioned in the future with other artists' donations on e-bay to raise funds needed to keep the museum in operation.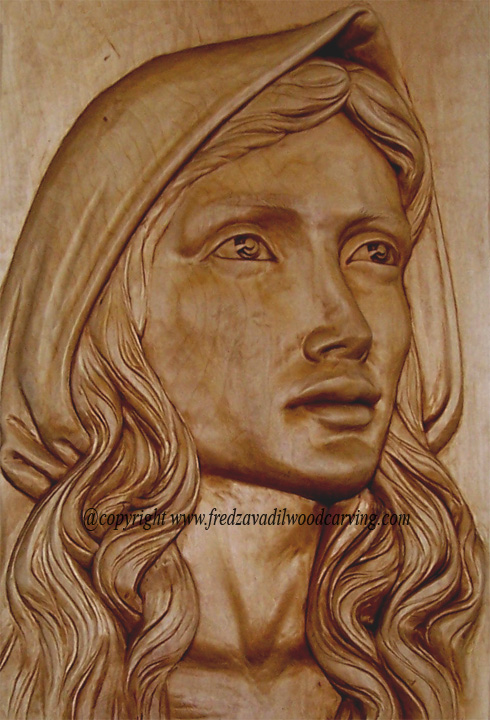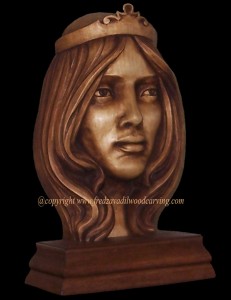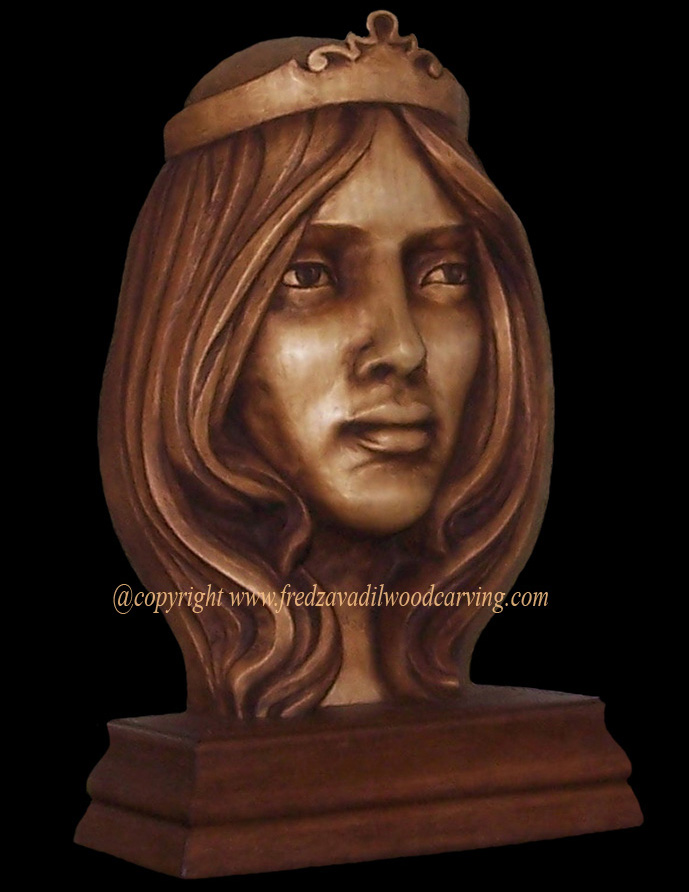 Wood sculptures by master wood carver and sculptor Fred Zavadil
.
Please check Fred Zavadil Wood Carving and Sculpting Channel on YouTube to see Fred carving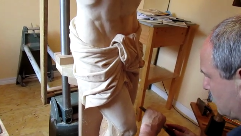 Carved sculptures and custom woodcarving in Windsor, Ontario, Canada, USA.

fred.zavadil@gmail.com, 1-519-966-0428
© Copyright Fred Zavadil, 2005-2017. Text, art work and images on this website are protected by copyright. Any reproduction, re-transmission, e-mailing or resale of images or website content is STRICTLY PROHIBITED without prior written consent of owner.