Fred really loves sculpting and woodcarving, it is not only a source of living for him, it is also his biggest hobby. And because his work is almost always on the serious side, he needed to find something to have fun in the "hobby" part. Caricature wood carving proved to be exactly that.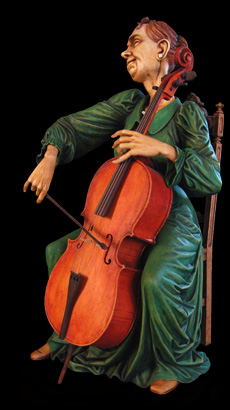 He carved his first caricature in 1997 and called it "Aristocrats of the Roads" It is a sculpture of two men-wanderers, carved from Honduras Mahogany. It placed successfully in several woodcarving competitions and was featured on the cover of 2005 Chipping Away Catalog.
It took a while before Fred decided to start working on his second caricature carving – a sculpture of "Maestro" (Orchestra Conductor), in 2007. You can see the difference and progress Fred made in those years when you compare Aristocrats (carved just from a sketch) with Maestro (carefully planned and carved using a full scale clay model). Maestro was entered in only two competitions; 2007 Canadian Woodcarving Championship, Hamilton, ON – where it got Second in Masters (Fred's Archer got First) and in 2007 at The Woodcarving Congress, Davenport, IO where he got First Runner up Best of Show, American Caricature Carvers Merit Award and People's Choice Award.
Shortly after, Fred carved a caricature of "Violinist" (he did not take this one to any competition) and then a caricature of "Cellist", another successful sculpture winning Second Runner up Best of Show and American Caricature Carvers Merit Award at the Woodcarving Congress, Davenport, IO in 2008.
To compliment the group of musicians, Fred decided to carve a caricature of his favorite opera singer, Luciano Pavarotti (in 2009).
Somebody has recently suggested at one the woodcarving shows that Fred now need a ballet dancer – well, guess what? He is very seriously thinking about carving one…..
The biggest success in caricature carving for Fred is "Ready to Fly"; sculpture of a man dressed to resemble a bird, representing the ever lasting desire to fly; he is standing on a rock ready to jump. You can see the question in his face – if you look from one side, he is smiling and sure that once he jumps, he will fly and everything will be OK, the other side shows something else – hesitation and doubt, he is wondering what will happen if everything does not go as well as he imagined……. The carving got Best of Show at the Woodcarving Congress in 2008.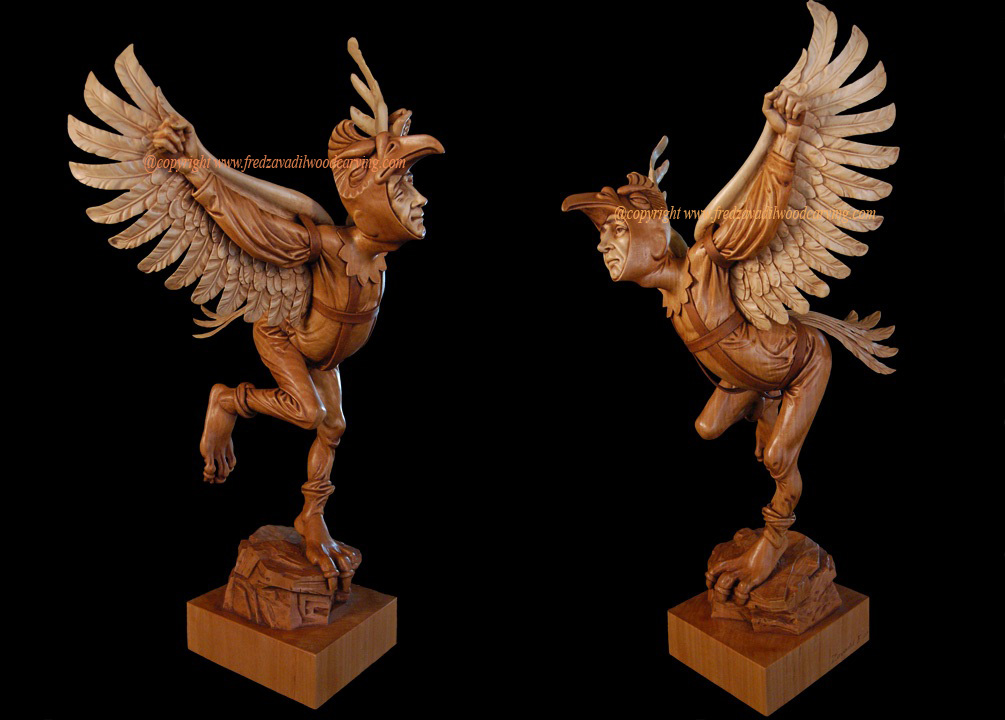 Ready to Fly, Caricature wood carving, Basswood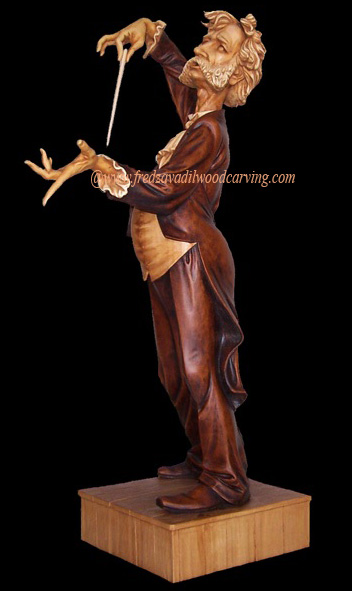 Maestro, Caricature Carving of Orchestra Conductor, Basswood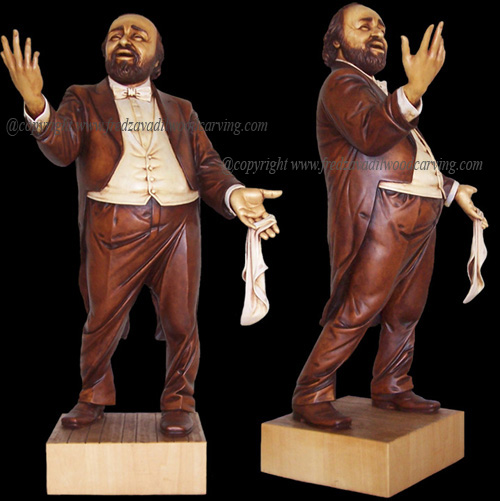 Pavarotti, Caricature Wood Carving of Opera Singer Luciano Pavarotti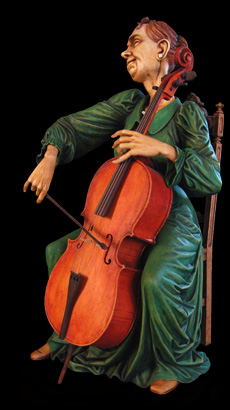 Please visit "Carving the Cellist" to see pictures and read about the process of carving Cello Player from clay model to the end.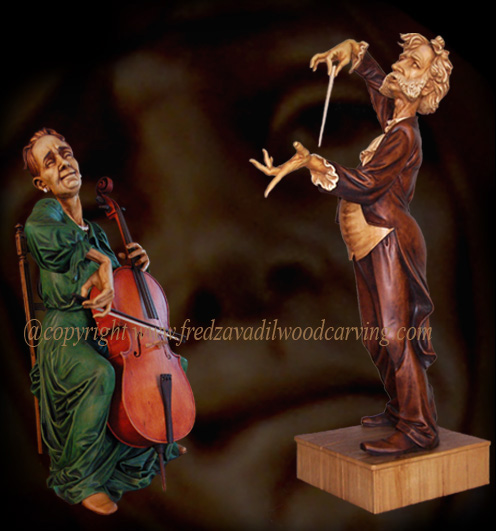 Caricature wood carvings of Maestro, Cellist and Ready to Fly by Fred Zavadil

Fred Zavadil, Woodcarving in Ontario
© Copyright Fred Zavadil, 2005-2017. Text, art work, and images on this website are protected by copyright. Any reproduction, retransmission, e-mailing or resale of images or website content is STRICTLY PROHIBITED without owner's prior written consent.